Product Description
Proline 1/10 Twin I-Beam 2WD Pre-Runner Suspension Conversion Kit SCX10 I/II
Transform your SCX10™ I/II into a 2WD Desert Truck with Pro-Line's Twin I-Beam Pre-Runner Suspension Kit! In the early days of offroad desert racing, I-Beam trucks became the standard suspension setup due to their uncompromised durability, easily attained long-travel and overall simplicity. Now, you can capture that desert racing spirit using your SCX10™ I/II kit as a base to build a 1/10 scale pre-runner.
The Twin I-Beam front suspension consists of two long "I-beam" arms that cross one another in an X-pattern. These arms control the lateral forces applied to the wheels, while radius arms reach backward toward the center skid plate to stabilize each wheel in the fore-aft direction. This super-scale conversion kit utilizes the same geometry setup as 1:1 trucks with true swingset steering and center-mount radius arms to optimize handling throughout the entire suspension travel.
The I-Beam conversion kit includes everything you need to easily convert your rig and completely change the driving experience of your SCX10™. Stainless steel links and steel pivot balls provide dependable endurance, while the new battery tray moves the battery to the rear of the vehicle for optimal weight bias and performance. The new front shock tower features holes for dual shock mounting, and the new rear trailing arms have 3 wheelbase options for added adjustability and versatility.
Get ready to hit the open desert trails with the Pro-Line I-Beam Pre-Runner Conversion!.
Features:

Highly detailed, durable, scale-looking molded I-Beam Arms, Radius Arms and Trailing Arms

Improved Stability and Optimized Handling

True-swing set Steering Using Stainless Steel Links and Pivot Balls

New Front Shock Tower with Dual Shock Mounting Options for Added Adjustability and Versatility

Trailing Arms with Adjustable Wheelbase

Rear-mounted Battery Tray for Optimal Weight Distribution and Performance

Capture the Desert Racing Spirit and Breathe New Life into your SCX10™

Includes plastics and hardware needed to Completely Transform the Axial® SCX10™ I/II to a 2WD Twin I-Beam Pre-Runner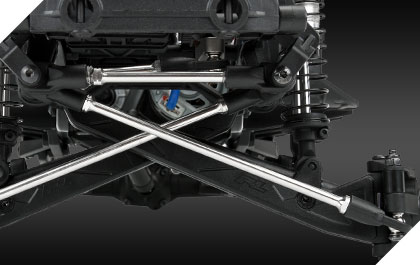 SCALE-LOOKING I-BEAM ARMS
Highly detailed, durable, scale-looking molded I-Beam Arms, Radius Arms, and Trailing Arms allow for simple, long travel suspension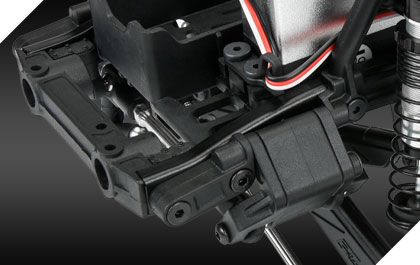 SWING SET STEERING
True-Swing Set Steering using stainless steel links and pivot balls optimizes handling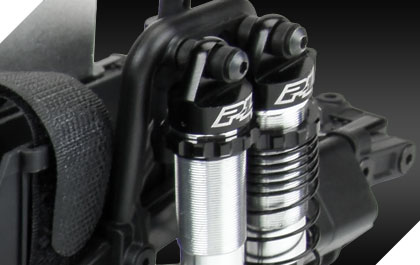 REDESIGNED SHOCK TOWER
New front Shock Tower allows for dual shock mounting options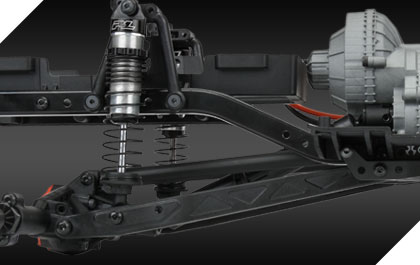 ADJUSTABLE WHEELBASE
Trailing arms with 3 adjustable wheelbase locations and rear-mounted battery tray for weight distribution
Recommended Parts
Pro-Line recommends the following parts to complete your conversion. These parts are not required, but highly recommended for both scale looks & performance:
2015 Chevy® Silverado™ Body (PRO360100)
Big Bore Scaler Shocks, 3 pairs (PRO634300)
Scale 1.9" Tires from 4.3" - 4.8" tall
Toyo® Open Country R/T (PRO1021114)
Toyo® Open Country R/T Trail (PRO1022614)
BFGoodrich® KO2 (PRO1012414)
BFGoodrich® KM3 (PRO1015014)
Dual Stage 1.9" Foam Inserts (PRO617400)
Spektrum Firma 85A ESC / 3300Kv Brushless Motor Combo (SPMXSEMC01)
Spektrum 3S Lipo ( SPMX53S30H5 or SPMX53S50H3)
Any aftermarket open rear differential will highly increase rear traction
Includes:
Box contains all parts needed to convert the SCX10 I/II to a 2WD I-Beam Suspension Pre-Runner
Needed to Complete
Axial® SCX10 I/II Kit with electronics or RTR
Tools: 1.5mm / 2.0mm hex driver, 5.5mm nut driver, 7mm nut driver / wheel nut wrench, Needle-nose pliers, Flush cutters
Other Details
Vehicle models vary. We DO NOT guarantee this will fit the vehicle specified in this listing! Verify that this item is appropriate for your vehicle. Consult your manual or vehicle manufacturer. Verify vehicle fit-ment before purchase. Any and all warranty claims will be handled through the manufacturer directly.
Product Videos
Custom Field
Product Reviews